Want to look different & stylish this summer? If you're looking for something a little fashionable, go for a boater, and be sure to wear it with confidence.
Straw hats are a classic headwear style worn in many different ways. A straw boater is a specific type of straw hat popular in the UK, Australia, and other parts of Europe. It's a simple hat that doesn't require any fuss or time-consuming alterations. Here are a few different ways to wear a straw boater hat, along with some helpful hints and tips for you to follow when wearing one.
History Of Boater Hats & What Makes it…
The history of straw boaters is fascinating. In the 17th century, sailors began wearing a straw hat called a "boater" hat. They would wear these hats while working on boats, as they were waterproof and would protect their heads from sun and rain. Over time, these hats became so popular that upper-class gentlemen eventually adopted straw boaters.
There are several hats, all of which serve other purposes and have their styles and advantages.
A boater hat is worn to cover the top of the head. Traditionally, they were made from wool felt, but now they're usually made from sennit, a stiff, flat straw. The flat-top style is most commonly worn at formal events like weddings, graduation ceremonies, and funerals. It can also be worn casually.
Sennit is the preferred material for boaters because it gives a nice and flat shape. It is also incredibly lightweight and easy to care for. Sennit is also durable; boaters can be worn for months without washing.
A boater's brim is flat or slightly rounded at the top. The bill is constructed from strips of sennit, sewn together to form a wide, flat strip of fabric. The hat is usually fitted with a stiffened felt band or ribbon around the crown.
How to wear a straw boater hat?
The first thing you need to know is that a boater is meant to be worn off the head. The boater was worn that way initially, a style that's very much in vogue today. That said, it can sometimes be tricky to pull off.
You don't need a lot of time or skill to pull off this stylish hat:
Start by holding the brim in your left hand.
With your right hand, hold the crown and lift it to your head.
Let the height hang free and place it gently on your head.
Next, let the brim fall and rest on your head.
Finally, tilt the hat, so the brim is pointed in one direction or the other.
Straw Hats: Some Interesting Facts…
The Largest Straw Hat in the World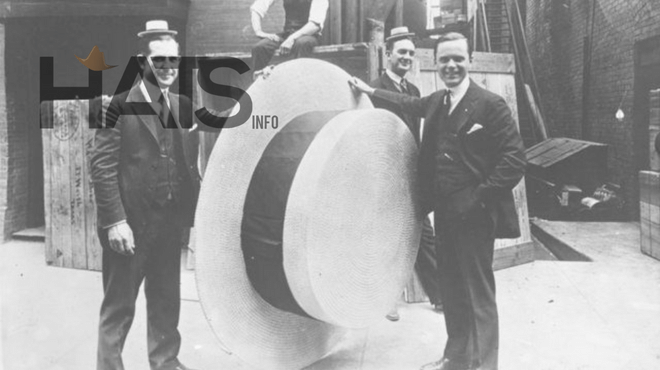 I'm sure you've heard about the world's most enormous straw hat, but have you ever seen it? If you haven't seen it, it's considerable. It's so big that it has to be covered up by two people.
The world's most enormous straw hat is over two meters tall and weighs around 25 pounds. It's not just big; it's crazy!
National Symbol of A Country
A country (Lesotho, an enclaved country within South Africa's borders) has decided to use a straw hat as its national symbol because it believes it embodies its people's resilience.
In a small town in South Africa, people wear straw hats to symbolize their independence and pride.
Straw Hat Day
The New Orleans have a strange tradition called Straw Hat Day. For this day, all men must wear a "Straw Hat" and go out and play sports.
While some people think they look silly, the Japanese people love it, and the event is growing in popularity yearly.
Final Thoughts!
Straw hats are one of the oldest forms of headwear. There are many different types of straw hats, including the traditional flat straw hats, boaters, wide brims, fedoras, and top hats. They look good with anything and are versatile enough to wear year-round. Straw hats are a fun, versatile fashion accessory that is easy to style with many different outfits.