Although it's undeniable that many of us are drawn to brand-new items, there are instances when we prefer a used, antique item, such as a worn-in pair of jeans, a pair of trainers, or a hat. Then how can your new hat acquire that worn-in appearance when you don't have decades to wait? It's simpler than you would imagine. You can carry it out on your own.
Check out the instructions below to learn how to quickly make your brand-new hat appear worn-out. It's time to satisfy your desire for destruction since we're planning to present you with how to distress a hat, whether it's a woolen fedora or a baseball cap.
First Things First—Be Careful
When you want to distress your hat, just like with any other Craft project you undertake in life, you must exercise prudence. The desired effect is not fully broken but old and worn out. Although the technique may give the impression that you must vigorously wear it down, this is not the case. Simply proceed cautiously and with patience.
Why Distress a New Hat?
Some individuals might find it hard to comprehend the idea of incorporating wear into a new clothing item, but it's simply a fashion design option. A new pair of jeans would equal an old hat if it were bleached or had holes ripped out. Many prefer the tattered look because it gives their clothing individuality and authenticity and since there is no other method of achieving the required style.
Others see it as paying tribute to out-of-production vintage fashions and styles. Retro aficionados strive to reproduce designs that represent the trends of bygone eras as antique looks reappear.
How to Distress a Hat?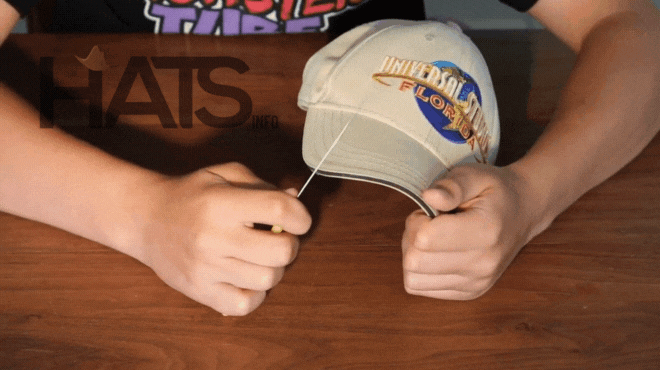 Over time, the normal wear and tear on a hat will produce its own amount of vintage beauty, much like a cherished T-shirt or pair of leather boots. A washing machine can help to expedite the process or, at the very least, provide a good foundation before you truly get creative. However, after a machine wash, you can do the following:
Instructions for Distressing a Baseball Cap
Any baseball caps may eventually appear vintage, but if you'd like to have that worn look right away, follow the instructions below.
Please remember that a washing machine is required for this.
1. Examine the materials used to create the cap
It depends a lot on the fabric if a hat can be weathered or not. Polyester, cotton, and cotton mixes are typically suitable for that. However, materials like suede, silk, and wool might not withstand it.
2. Put It In The Washing Machine
Put your baseball cap in the washer for two to three cycles to give it that worn-in appearance. Cold water is preferable since hot water can more seriously harm your hat than you might think. You must be able to get that rough appearance after completing this step.
3. Make a cap distressed with scissors and sandpaper
For this phase, you'll need scissors and some sandpaper to get the desired fuzziness and minor scratching. Your baseball cap's top layer should be gently sanded in a round or linear motion. Next, make several rips or holes on your cap's front or wherever you choose with the scissors. When you're finished, you will have a dated baseball cap.
Instructions for Distressing a Wool Fedora
Wool fedoras can be washed to achieve the same faded, worn-in look as baseball caps. Warm water is preferable initially when washing wool felt because hot water could completely damage the material.
1. Wash the Fedora in Washing Machine
Start by placing the hat in the washer. It will look more ragged and lose its sharp edges if you wash it in the machine.
2. Mist salt water and oil
Mist the hat with a mixture of salt water and olive oil (or another vegetable oil) to simulate the appearance of body oils and sweat marks. To make stains on the hat that are more noticeable, you may also spray it with coffee or black tea. To achieve the ideal impact, consider where to strategically spray the headwear.
3. Bend the Hat
Bend the hat and use elastic bands to keep it in place, giving it an even older vibe. Overnight leaving it in that position will cause creases and folds.
4. Rub sandpaper on the hat for a vintage look
Carefully run a cheese grater or sandpaper across the top and brim of the fedora hat to tear the fabric. You might even employ a stone. Make worn areas, stains, knicks, and snags by doing this both in and out of the nap.
What Hats Should I Distress?
One style does not fit everyone when it relates to aging caps. Distressing techniques affect styles and materials uniquely, so what fits on one fabric may not exactly work on another. And the last thing you want to do in your quest for the perfect worn look is damaging a brand-new cap.
Having said that, certain hats can or shouldn't be altered this way. Some hats are superior to others at withstanding stress because of their quality, kind of fabric, and design. The top hats to distress are listed below:
Baseball hats
It should not be a shock that baseball caps are the most distressing headwear. Typically, they are composed of cotton, a material that can be easily handled with heat and water. It will conform well to your head and deteriorate from the sunlight, pollution, and wind simply from wearing it sometimes.
Fedoras made of wool
Whether you like them or not, fedoras have significantly impacted American history and the clothing world. A fedora quickly gives any outfit flare and individuality if you're headed to a fancy dress party or a formal event. To fray a fedora, you must scratch the crown and brim with a cheese grater or sandpaper. Just be sure to apply little pressure, so the fabric appears lightly worn.
Cotton-made hats
Cotton or poly cotton hat may typically be converted into a visually realistic vintage item. Cotton-based products are common since they are affordable and incredibly pleasant to wear. Bucket hats, newsboy caps, and sun hats can all be given individuality and worn using sandpaper, scissors, or a razor.
Felt-based hats
Felt can create a wide variety of hats, such as top hats, bucket beanies, derby hats, and stampede hats. Sandpaper can be used to give any of these looks a worn-out appearance. Remember that the material will fray more easily and quickly because felt is softer than cotton.
Cowboy Hats
Cowboy hats can be found in many different styles and sizes, and they are typically constructed of straw, felt, or leather. Even though the recognizable top and brim are made to resist sweat, dirt, and rain, with age, the shape is probable to shift to some degree. To stay on your head during bad weather, a cowboy hat should fit snugly and pleasantly. This indicates that most cowboy hats are designed with the wearer in mind and maybe simply modified to suit your requirements, fashion, and head.
The Takeaway?
Since nothing compares to the style and feel of a hat that has weathered through normal use, there are some quick (and enjoyable) ways to DIY-style distress a hat. In addition, there's something genuinely thrilling about intentionally scraping up a new cap when you don't have to keep it in pristine condition.
You can quickly create the distressed hat of your fantasies with the right equipment, a little time, and some fairly destructive tendencies.