Life is always better over the river and through the woods. This saying goes right to the adventurers who love hiking and cannot just do without! When we get lost in the daily grind of activities, we crave someplace to hear our lost voice and make things slow for a moment. And hiking is the best way to do so! As adventurous as it seems, we must carry a few essentials along the way. A hiking hat is one of them. How to choose perfect hiking hat? You shouldn't be worried about this while planning your journey.
Leave it on us!
In this article, I will explain some tips you must consider when choosing a hiking hat. Alongside, you might also be looking for the best hiking hats. Don't you? We've got you covered here too.
How to Choose Perfect Hiking Hat? Quick Tips
Hiking can be all fun and relaxing. However, your experience can become a nightmare if you do not have the necessary gear. Hats being one of them, can be your ultimate trekking partner. The best hiking hat comprises many characteristics. You just have to follow a few things in your mind.
1. Wide Brim For Sun Protection:
No matter at what place or during which weather you are hiking, you always need certain protection from the harmful rays of the sun. Hats with a wider brim can cover your face and prevent UV rays from reaching your skin. UV rays can cause many skin issues, including sunburn, blisters, swelling, redness, or even skin cancer. You do not want an allergy on your face on the way back from hiking.
Some hiking hats are specially made from fabric that restricts light or sun rays from coming to your face. Such hats guarantee protection from Ultra Violet Rays and have UPF (Ultraviolet Protection Rating). If your hat has UV-blocking properties or its UPF rating ranges from 30 to 50+, it's good to go hiking.
2. Made From Waterproof Material: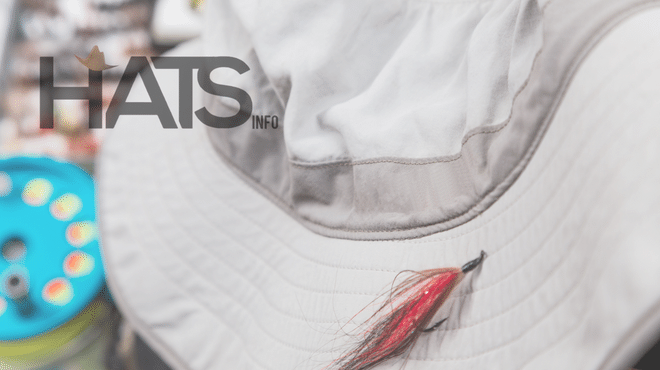 A sudden rainfall can destroy your journey if you are unprepared for it. Weather up the mountains is unpredictable. Or, if you want to enjoy the waterfall experience during your hike, you must wear a waterproof hat. Hiking hats are designed with a fabric that is waterproof or water-resistant. Generally, waterproof hats are made with a blend of many materials, including cotton, wool, nylon, polyester, acrylic, rayon, and polypropylene. Make sure you get a hat that is waterproof or made with water-resistant fabric.
3. Stand Right As Per Weather Conditions: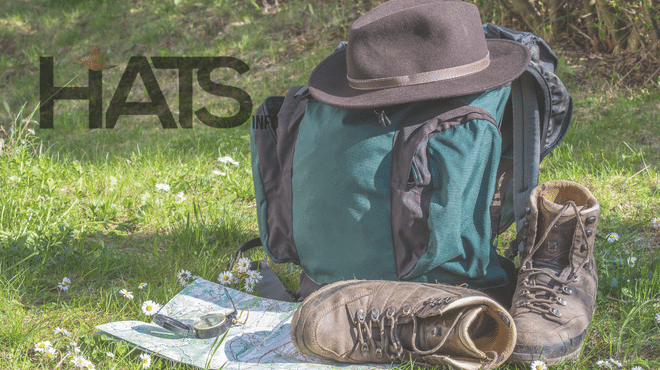 You just cannot wear a standard hat during trekking. When buying or opting for a hiking hat, you need to keep the weather condition in your mind. If you plan to trek in cold weather, get wool or thick fabric hiking hat that will save your head from cold out in the woods.
Similarly, get a breathable hiking hat if your hiking plan is during hot weather. Such a hat will ventilate your head, reducing the possibility of excessive sweat throughout the journey.
4. Snug Fit and Adjustable String:
The best hats for hiking are those that give a snug fit on your head. If it's otherwise, a light wind can blow your hat away. You don't want running after your hat whirling with the wind. Get a perfect hat according to your head size, and don't opt for a loose one, especially when hiking.
Moreover, a hat with adjustable string makes it easy for you to adjust it easily. Even if your hat size is a little loose, you can modify it by tightening the strings during a windy hike.
5. Apply Bug Repellant on Your Hat: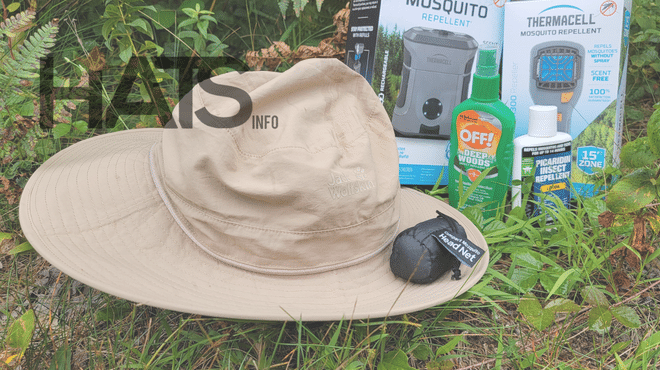 We don't know what awaits us out in the mountains. To avoid getting affected by bugs and ticks, spray a bug and mosquito repellent on your hat while leaving for the adventure. It's a famous saying that prevention is better than cure. So, be prepared beforehand and save yourself from infectious bugs or mosquito bites.
Not just on your hats, you can spray a repellant on your clothes or even shoes for maximum protection.
After these tricks, I hope you know how to choose a perfect hiking hat now.
Let's move on to the best hiking hats!
Best Hiking Hats; Briefly Reviewed
An ideal hiking hat must have all the above-mentioned characteristics in it.
Made with 100% Nylon, this is one of the best-hiking hats available out there. Apart from being stylish, these hats come in various colors so you can choose one per your personality. This hat has the same features one can seek for a trekking hat. It provides ultimate protection from the sun rays, all thanks to its Omni-shade technology. The UPF 50 materials block the harmful UVA and UVB rays from reaching your face.
Furthermore, its Omni-wick technology ensures the moisture-wicking feature through the headband. The hat also has a breathable mesh fabric on its crown to ventilate your head. It's a one-size adjustable hat that you can adjust according to your head size without worrying about the size issue. Lastly, the string is also elastic, making it a functional hat for hiking.
Perfect for sunny weather, the Sunset hat is the ideal choice for adventure lovers. You can wear it during extremely hot weather without getting worried. It assures UPF 50+ sun protection allowing you to have fun during your journey. The material from which it's made is polyester and waterproof. The adjustable chin strap moisture-wicking sweatband makes it one of the most practical options.
Not only this, but it also has an easily shapeable brim for fashion enthusiasts. You can effortlessly change the shape of its brim if bored with its traditional look. The sizing is also adjustable and can secure a snug fit with its external size adjuster.
Overall, it's a great hiking hat that is also light on the pocket!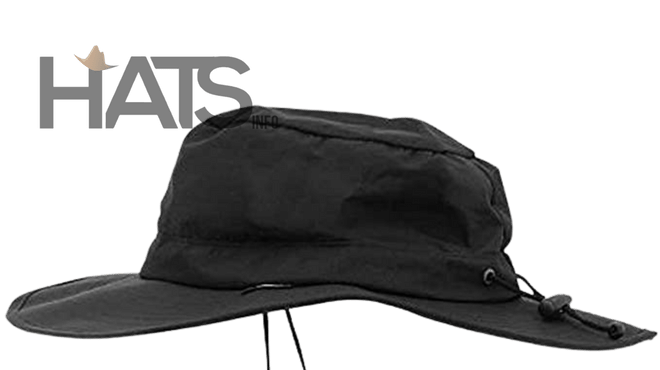 Exclusively designed for outdoor adventure, this hat is yet another lightweight, crushable and breathable hiking gear. The material is 100% waterproof allowing you to enjoy your journey even when the unexpected rain comes. It guarantees maximum protection with UPF 50 feature for ultimate UV rays. The material is breathable and prevents excessive sweat get accumulated in your head. However, it does not have a moisture-wicking band.
Again, this is a one-size hat that can be easily adjusted using the size adjusting cord on the crown. Also, the easy-to-adjust string makes the hat get fit on your head properly. So, you don't need to worry about wind during the trek.
The most interesting part about this hat is that it is easily crushable. Not in the mood to wear it? Get it off, fold it, and put it inside your pocket or backpack.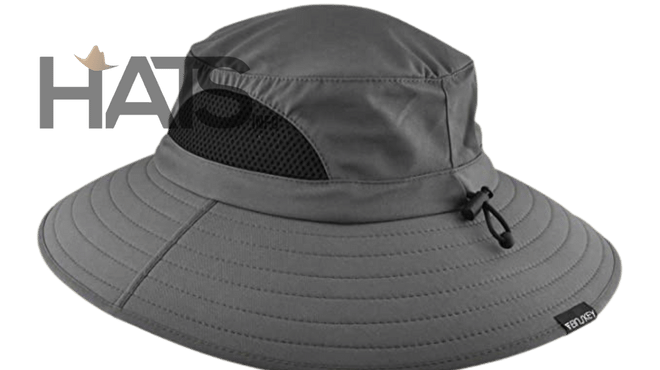 Classy and Comfortable, the EINSKEY hiking hat can be your favorite adventure hat with its amazing features and stylish looks. Made from 100% polyester, the hat is ideal for withstanding uncertain weather conditions with its waterproof and sun protection technologies. Apart from its wider brim that covers the face from direct sunlight, the material provides sun protection with UPF 50+. It is water repellent, allowing water drops to get inside the hat at any cost.
The adjustable sizing cord and chinstrap allow you to have the perfect fit. It also features a sweatband inside that absorbs all the unpleasing sweat inside. The breathable mesh on the crown makes your head dry and cool during intense hiking.
For me. It's the best hiking hat and my favorite one too.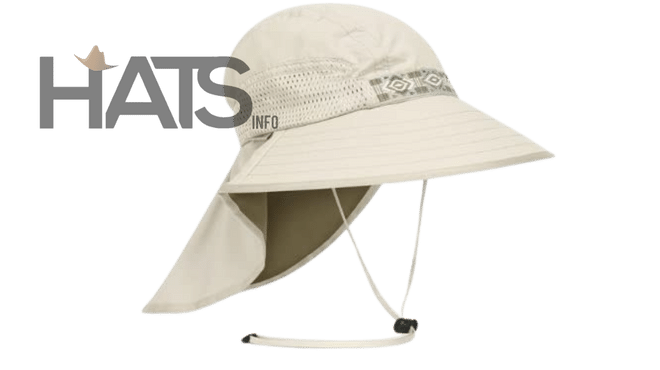 The adventure hat acquires all the features of the above-mentioned sunset Hat. It protects from the sun with SPF 50+ and is water repellent. That hat is made from nylon material, and the mesh ventilation part is made from polyester to let your head breathe inside.
Similar to other hats, it has a wide brim, but the unique thing about this hat is its wide neck cape. The neck cape covers your neck from the back and looks stylish at the same time. If you don't want to protect your neck, lift the neck cape with a hook and loop tap. Do it the way you want, with or without a neck cape.
The sizing and the string are also adjustable, providing great comfort to the user.
Style-wise, this hat is a hit!
The Takeaway:
A hat is an essential hiking gear you can't skip. Apart from adding a bonus to your looks, it provides many benefits and is highly functional. Choosing the right hat for hiking is no task. You just have to be mindful of a few things. The hat should be breathable, durable, waterproof, and must provide sun protection. I hope your concern about How to Choose a Hiking Hat ends here with some tips and best-hiking hat recommendations.