A gleaming, white hat has a particular fascination. Those glossy white hats never fail to look stylish, whether wool tricorns or cotton cowboy hats. But when they become dirty, you will lose all the charm.
So how to clean a white hat? Every Hat should be cleaned gently, but white hats require particular caution because blemishes, staining, or even the slightest damage may be obvious right away. Use the advice below to choose the right cleaning method for your Hat and help avoid any cleaning mishaps. By the end of this guide, your white Hat will still be as spotless and pristine as it was in the beginning.
Points to ponder Before Washing a White Hat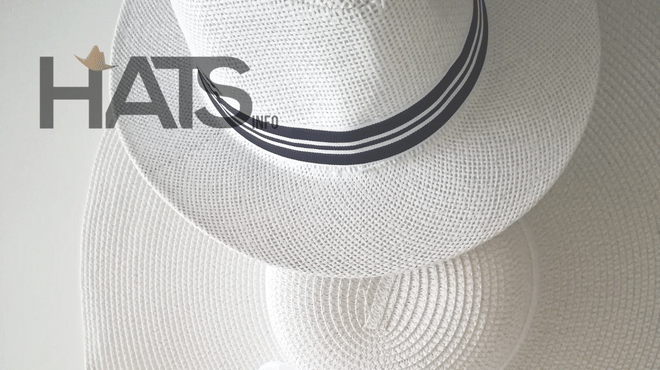 Before washing your white Hat, you need to think through a few points that are:
Check the Hat
You should examine your white Hat thoroughly examined before washing it. Look at its headband, the crown, and other stuff. Moreover, you should also consider the way the Hat is constructed. If your Hat is:
has sturdy stitching
has a plastic brim; you can wash it.
In addition, if your Hat has the following ascpets, avoid washing it.
has any inferior quality brim such as cardboard
If a hat's stitching is slack or loose
The hat material is not durable
Verify the details of the Hat
You should determine the kind of material of the Hat before washing it. Thorughly check the label or printing on the Hat's interior. It ought to specify the Hat's materials, such as if it's made of cotton, polyester, twill, or wool. If your Hat is comprised of this material, then congratulations, you can clean it at home.
Check washing instructions
You can find directions on how to wash your Hat on the tag or printings inside. These directions may include the appropriate water temperature, whether to handwash or machine-wash your items, and the best method for drying your headgear. If your Hat's tag provides instructions, you should pay attention to them.
Visit the dry cleaners
Think about taking your white Hat to a launderette if you are unclear if you can successfully wash it yourself. Either the dry cleaner can clean the Hat for you, or they can provide instructions on how to wash it yourself.
Rethink using the dishwasher
There are a lot of illustrations where the individuals rush to the dishwasher for hat cleaning. However, it is not the best way to do it.
You run the risk of damaging the Hat may by washing it in the dishwasher. This is brought on by the machine's high heat and vigorous washing. You should hand wash your Hat or send it to a dry cleaner for optimal results.
Method 1- Handwashing your White Hat
If you are sure your Hat's material will not be harmed by DIY cleaning, then you can hand wash for immaculate shine. If you have cotton, synthetic fabrics, and sometimes even wool you can wash it a t home. Below are the steps for hand washing your white Hat.
First, get a sizable bucket or reach to a sink and fill in the water to handwash cotton or synthetic hats.
Now, add a table spoon of baking soda, a cup of hydrogen peroxide, and some detergent in water and stir it thoruglhy. This combination of substances works well to clean your white Hat without damage. Moreover, it is best to use a wool-specific detergent for washing wool.
Now leave the Hat in the solution for an hour.
Next you can get a small brush and rub the stubborn spots on Hat. Make sure to clean away any difficult spots with the brush. However, note that cleaning a wool hatrefrain from sing a brush will damage the Hat.
After scrubbing the Hat, rinse the Hat thoroughly and clear away all the detergents and chemicals. It is not suggested to use hot water for woolen hats; however, for polyester and cotton hats, you can use warm water for rinsing.
Now gently squeeze the extra water out of your Hat while not squeezing the Hat too hard.
Allow the Hat to air dry outdoors for about 24 hours.
Method 2-Washing the Hat in Washing Machine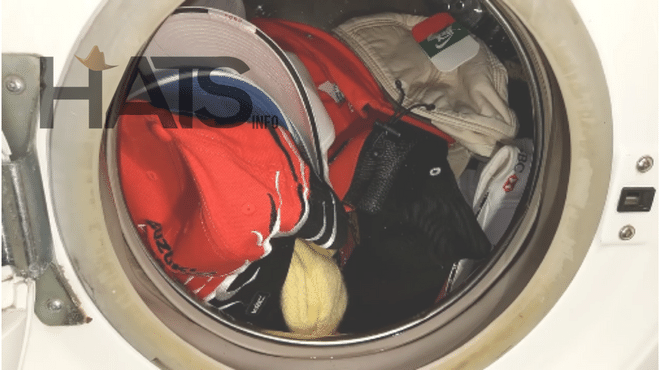 Note that not all hats are designed for machine washing. After confirming that your Hat can endure the machine washing cycles, you should proceed with this method. However, beanies and baseball caps made of cotton work well with this method. Below are the steps to machine washing the white Hat:
Clean up any stains and the headband first. For that, you will need to pretreat any stains on the Hat using laundry spray. However, ensure your washing spray is color-safe before pretreating the Hat because if the stitching or patterns on your Hat are colored, it will ruin it.
After pre-treating, put the Hat in a mesh laundry bag.
Select a delicate or mild cycle with chilly or cold water for the Hat. However, if your Hat is made of heat-safe material, you can choose the warm water cycles.
After the washing cycle, take the Hat out of the washer.
Now let the hat air dry. You should keep in mind that your white Hat should never be dried in the dryer.
The Takeaway?
You can frequently wash a white hat by hand with a few basic tools. Moreover, you can also clean it in the washing machine. In addition, cleaning your Hat with water, cleaning solutions, and a toothbrush after determining whether it can be washed is another option. However, you should consider the stuff of your Hat and other factors before washing it at home. Moreover, if you are unsure about cleaning it, you should seek a professional's help.